Social dance classes – GREEN CLUB * aged 60 and over
Dancing for health and against dementia.
Dear seniors, aged 60 and over, we invite you to dance with us at our Green Club social dance classes, which are thoughtfully designed and adjusted according to your abilities and wishes. We take time getting acquainted with dance steps, go over them multiple times so that they become familiar and assemble them into choreographies that are simple enough to master. We will familiarise you with standard, latin and modern dances in an interesting and simple way and delight you with group dances, so that you will be able to take to the dancefloor on different occasions – anywhere and anytime – without unease.
At our pleasant dance gatherings, which are held once a week and last 90 minutes, you can dance in beginners and more advanced classes. At Bolero we always emphasise social and interpersonal relations, so you will also make new friends. We will celebrate birthdays together, take an excursion or have a dance weekend, while you will have the chance to dance at our social dance evenings at Bolero Dance Center on Saturdays!
You will discover that dance rejuvenates, increases flexibility, maintains good physical ability, improves fitness, strengthens muscles, improves memory and concentration and helps ward off dementia. 
The director and creative head of Bolero Dance Center as well as the creator of the course she christened GREEN CLUB, the renowned dance pedagogue and judge Janja Pušl, will take you on a journey into the world of dance in the course of relaxed and enjoyable dance classes accompanied by pleasant music. You will prove, together with the other dance pedagogues, that there are no age limits in dance and that the third age (60 – 80 years) is a wonderful time for dancing!
Make sure, therefore, that your autumn years are healthy and sociable. Come dance with us!
Vabljeni k ogledu prispevka v oddaji Dobro jutro na TV Slovenija 1. Prispevek se začne na 29:20.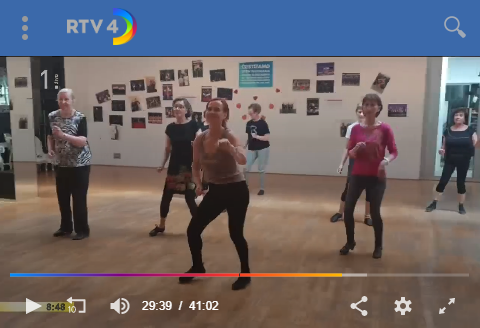 Schedule - začetni tečaji Zelenega kluba
Schedule - tečaji zahtevnejših klubskih stopenj Zelenega kluba
Četrtek
19:00 - 20:00
Družabni plesi
60-80 let
zahtevnejši
OZ-K53-23-148
Price list
akcijska cena
od 15.7. do 31.10.2023
36,00 EUR
mesečna cena
Družabni plesi * nad 60 let
1 x tedensko
odrasli
ob prvem vpisu
za začetne tečaje
akcijska cena
od 15.7. do 31.10.2023
64,00 EUR
dvomesečna cena
Družabni plesi * nad 60 let
1 x tedensko
odrasli
ob prvem vpisu
za začetne tečaje
redna cena


44,00 EUR
mesečna cena
Družabni plesi * nad 60 let
1 x tedensko
odrasli
redna cena


80,00 EUR
dvomesečna cena
Družabni plesi * nad 60 let
1 x tedensko
odrasli
See also