Dance recreation for ladies 45+
Dancing for health and against dementia.
Dear ladies, are you without a partner? The solution is on hand! Renowned dance expert, former competitive latin and standard dancer, dance pedagogue, judge, lecturer and mentor, Ms Janja Pušl, is known for her positive spirit and understanding of people's needs. Her amazing energy and love of life has also led her to attain a special "Master of life energy" diploma (Andreja Les, BSc Psychology), which deals with the balance of the psychophysical state of body and mind.
This dance course is intended for ladies who do not have a partner, but would nonetheless like to learn enough dance steps to dance splendidly with a partner when the opportunity presents itself. This course will make the eternal predicament of dance-partnerless ladies history. Practice sessions also include a thorough warm-up of the entire body, as we must take care of physical fitness and strengthen abdominal and back muscles. We learn the correct steps and elements of latin, standard and modern dances. We also touch on exercises for better acceptance of one's body and better self-image, as well as maintain psychological relaxation and a positive attitude. Release your tension, have a workout, lose those extra kilos, relax your body and soul through music, simple dance steps and a lot of good humour. It's time for DANCE and a NEW moment in your life.
Plesna rekreacija za dame 45+

Drage dame, vabljene na začetni tečaj plesne rekreacije za dame 45+ s plesno mojstrico Janja Pušl. 💃 NOV TERMIN: Vsak torek od 20:30 do 21:30. Prva vaja: 5.11.2019. Prijavnica: https://bit.ly/2JuLsWV Plesni tečaj je namenjen damam, ki nimate plesalca, bi se pa vseeno želele naučiti toliko plesnih korakov, da boste ob morebitnem povabilu na ples odlično zaplesale tudi v paru! Večna težava dam, ki nimajo plesalca, bo s tem tečajem preteklost! Vaja zajema tudi natančno ogrevanje celega telesa, saj moramo poskrbeti za kondicijo, krepitev hrbtnih ter trebušnih mišic, naučimo se prave korake in elemente latino, standarnih in modernih plesov. Dotaknemo se tudi vaj za boljše sprejemanje svojega telesa, boljšo samopodobo in poskrbimo za psihično sprostitev in pozitivno naravnanost.

Objavil/a Bolero Dance Center dne Sobota, 02. november 2019
Plesna rekreacija za dame - Čajanka

V Boleru smo imeli prvo skupno srečanje, ki smo ga poimenovali Čajanka vražjih deklet. Vražjih zato, ker smo ženske močne, polne izkušenj in pogumne. Ples nam je pomagal še bolj spoznati sebe ter nam pomagal k boljšemu počutju. Izmenjale smo si dragocena mnenja o ženskih temah in se preprosto imele lepo! ❤☕✨

Objavil/a Bolero Dance Center dne Nedelja, 12. januar 2020
Vabljeni k ogledu prispevka v oddaji Dobro jutro na TV Slovenija 1. Prispevek se začne na 29:20.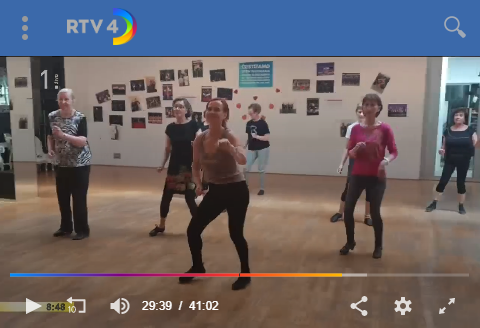 Schedule
Četrtek
10:00 - 11:30
Plesno razgibavanje za dame
45-80 let
začetni
PR-1-23-133
1. vaja: 5. 10. 2023
Price list
akcijska cena
od 15.7. do 31.10.2023
36,00 EUR
mesečna cena
Plesno razgibavanje za dame
1 x tedensko
odrasli
ob prvem vpisu
za začetne tečaje
akcijska cena
od 15.7. do 31.10.2023
64,00 EUR
dvomesečna cena
Plesno razgibavanje za dame
1 x tedensko
odrasli
ob prvem vpisu
za začetne tečaje
redna cena


44,00 EUR
mesečna cena
Plesno razgibavanje za dame
1 x tedensko
odrasli
redna cena


80,00 EUR
dvomesečna cena
Plesno razgibavanje za dame
1 x tedensko
odrasli
See also